Porto & Fi on The Mound
Pre Tour Supper
Porto & Fi Deli Bistro, on The Mound

Click the options below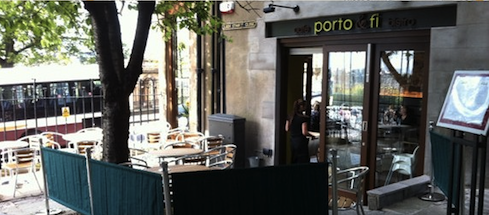 Step into one of Edinburgh's most recent Deli Bistros and experience the unique food and atmosphere with a great menu and ambience.
After a sucessful venture in Newhaven, Porto & Fi on the Mound opened with the stylish and relaxed atmosphere that has granted Porto & Fi its credits. The house menu was designed by Fiona and is influenced by her extensive culinary knowledge and experience of produce and styles from around the world. Fiona creates a new menu four times a year to keep up with the changing seasons where she uses the best in Scottish gastronomy.
Porto & Fi always endeavours to source quality local produce to support as many local suppliers as possible so why don't you try some of the best gems in Scottish food?
Here's why you should have supper at Porto & Fi:
Priority Service
Our customers get a priority treatment for their supper.
This means you spend less time waiting and more time enjoying your meal.

Strategic Location
The Mound sits at the steps of the Writer's Musem, a mere 5-10 minutes walk from our starting pub in Grassmarket. This way you have time to dine and take a short walk to prepare yourself for the tour.

Local Ingredients
As their motto goes, Porto & Fi are "Passionate about food", specially if it's cooked with the best from local producers, from local fishmongers to local bakeries and cheesemongers. Why don't you give Scottish produce a try?